Microgames, Monster Games, and Role Playing Games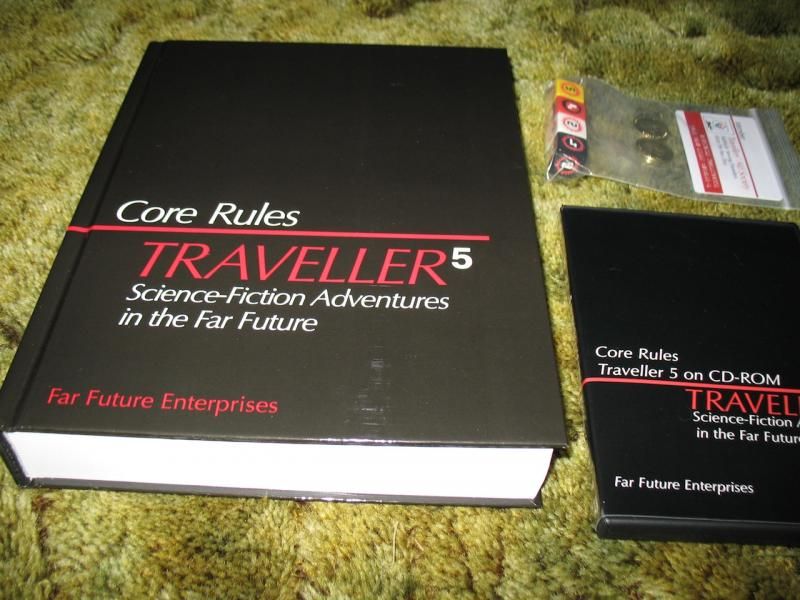 I finally dug in to this monster a little more. This thing really is gigantic. The first stage is flipping through and finding things that you can use with whatever Traveller system has already won at your house: the world maps and system "fillforms" are really nice for this. Then you're noticing things that can help out in other games you run– stuff like QREBS and the animal encounter system. But at some point you start to wonder what this game actually is on its on and by itself. To really grasp the sine qua non of Traveller⁵, I suggest checking out some of the Maker systems.
GunMaker is particularly cool. "Most personal and military weapons can be created using this chart." Insane. It's just a few tables on a single page, and with it… you can roll up any conceivable weapon of the Third Imperium. I do suggest you have a blank fill form handy when you do this, as looking up all the numbers on the charts can be a little confusing the first time. But this thing really works– and the guns it kicks out all have cool milspec type names à la the FGMP-15. My first weapon with this was a Mod-LRLT-7, a light rocket launcher designed for the betentacled Vegans! Instantly my mind whirled as I inexorably worked out just where this shipment of weapons came from, where it was going… who ordered them… who smuggled them. (Were they left over from the Rim War…? What's their shelf life?!) This is the exact same effect that even the most broken world generation system seems to have… and it is pure Traveller.
(A low-pop garden world next to a high-pop airless world…? Let me explain…. No, wait… I've got it!)
The ArmorMaker and the VehicleMaker each follow the same formula: you get a very highlevel breakdown of all the terms and so forth, a bunch of charts, and the inevitable fillforms. The ArmorMaker also includes a similar "one page of charts makes anything in the galaxy" type generator. Vehicle stats have the exact same type of values as what Armor gives you… and you design vehicular weapons with the same system that you use for making personal weapons. This is some seriously cool stuff.
BUT… there's a catch. Well, maybe a few catches:
All of this "stuff" is being plugged into a range band system that has one minute combat turns. The granularity is very low, so this is far from being an "End All Be All" monster system. The resulting playability may be a Procrustean bed to more detail oriented game masters.
The range bands are logarithmic, so translating to "real" combat maps will require a little creativity. (It's odd that there wasn't room for a Snapshot type game in all of this!)
There appears to be at least three different damage systems supported by this game, none of which are explained particularly well. This one choice makes a hard-to-learn system nearly impossible to wrangle without outside help.
Vehicles don't have hit points of their own. They just have a hit location table. The idea seems to be that something will get damaged on a vehicle and then the players will have to fix it to get away or whatever.
I think that… all the parts are here to make a really cool take on Traveller. But there's not a lot done to make it easy to pick this up… and there seems to be a lot of work left for the referee when it comes to actually synthesizing this stuff into a real game. I like the overall resolution of this game; it's mostly aiming for something slightly more fleshed out than Classic Traveller, but not nearly as detailed as something like GURPS. It looks like it is optimized for quick, freewheeling play, too. And I gotta say… I kind of like the implied universe of this ruleset: it is crazily full of all kinds of stuff.
Do I need all of this? Not especially. I mean, it's just fun. The game that the brothers Keith loved so much and made so many adventures for still works just fine on its own and won't be improved all that much with the addition of what is found here. I personally would have a hard time using it just because I would want to develop a working Car Wars game out of the components provided. Unlike Striker, say, I think that what is here is actually worth developing along those lines– and that's saying something. But it is a bit disappointing that such a large book needs more development to become truly useful.
For a long stretch of my childhood, this was about the only role playing game that I owned that I (a) had everything I needed to run it and (b) actually really intended to do so at some point. Most painfully, it was probably even more impossible for me to run it like I wanted to than even something like Twilight 2000 or GURPS Humanx. It's pretty obvious to me what this game actually is, but at the time I had no idea: it's essentially somebody's commentary on original D&D. The rules themselves take old school precepts for granted… but the adventures that were made for this edition quietly dropped a lot of that stuff. And of course us eighties kids ignored anything that didn't jive with how we were going to play– we had entirely different assumptions about what this was than the people who put it together.
Third Edition Gamma World® is a deeply old school game that has been bizarrely reworked to incorporate somebody's idea of a "modern" universal mechanic. This is painfully obvious in the sections we're looking at today.
Surprise — When do you check for this? Whenever the Gamma Master feels like it!  And when you do… be sure to roll against the Intelligence of the character with the highest Dexterity. Oh, and be sure to add in his DEX modifier as a column shift. How do you avoid being surprised? By rolling whatever color result the Gamma Master thinks fits the situation. (Did you think we were lying to you when we said in the errata sheet that this game "provides complete rules capable of dealing with almost any situation"?) Awesomeness: you are surprised for two turns if you get a black result. Even more awesomeness: there is technically no way for player characters to surprise NPC groups under these rules! Ha ha! Eat that, suckers!!!
Reactions — This was a cornerstone of the Moldvay rule set, not that I understood that as a third grader. Unlike the "surprise" section, there is a six point list covering when to check this. (I tell ya, it's always either too much or too little with these rules!) Now, I'm not sure what you roll against here– it's either Intelligence or Morale or sometimes even Mental Strength all of them with a crap-ton of modifiers– but most of the time you're going to be rolling on the Encounter chart. There are several others, each with different results for each color: Impress, Willforce, Charm, Pacify, Parley, Barter, Request, and Command. Awesomeness: your initial reaction color result gives a RESULT SHIFT on these other charts. As wild as these rules really are, there is kind of an innovation here on the social side. (Alas, I doubt that few people gaming in the eighties even noticed, much yet cared.)
Hirelings — These rules are insanely detailed and specific. This is good, because I think that D&D was always a little quiet on this point. I think in Moldvay Basic, it pretty well came down to shares of treasure and experience. Here… hirelings cost money depending on their rank… and you have to pay upkeep for followers whether they adventure with you or not! These rules are elaborate and detailed… while we get a huge stack of potential bonuses, there are no penalties listed. Players are going to want to know the minimum they can offer and still swing the deal, but these rules seem to assume that the players will throw money around by default. Character's with high charisma won't have to offer much a deal at all under the rules as they stand. The limits on followers are clear and make game sense. Also, you get a Morale rating in this procedure. Awesomeness: A red result on a recruitment role means you gain a follower. (I think the more usual hireling situation is that they fight for just one adventure? Not sure!)
Morale — An interesting wrinkle here is that there is no morale check for when a side loses its first man in combat as in Moldvay Basic D&D. Another interesting bit as that the these rules are hard wired for handling the NPC hirelings of the party. As with surprise, the rules seem designed to allow the party to have a chance to mess up– there's not much here to indicate that this is so that their foes can occasionally run away in the middle of a fight. Awesomeness: the Morale rating of an NPC will go up and down over the course of an adventure depending on the players' behavior.
And so there it is. There's a lot of cruft here, a half dozen good ideas… but no coherency. While this is clearly somebody's variant of D&D, the creators of this don't seem to understand how basic D&D actually works in practice: players want to surprise their foes, cause them to fail a morale check after they drop their first opponent, take the treasure, and get out quickly! And they do not want to have hirelings with them except on scouting runs where they are unlikely to get much loot. There's no sense that the designers were really going after some other gestalt effect… they just seemed to have started with some D&D concepts and then tried to make them better. And of course, at this stage… "better" meant more complicated and (often) more "real" than D&D.
These rules are just complicated enough to be completely ignored by teenaged gamers that don't already know exactly what they're doing. I can't seem to force myself to use them "straight." The temptation to actually complete the design process is too great. In the end, a Gamma Master that attempts to run this game faithfully will end up doing a lot of hand waving and making judgement calls on everything. In a sense, he will pretend to run the game… and the charts and rulebooks are merely props for that bit of dissembling.
The arrival of Ogre Sixth Edition has not just resulted in a lot of blown up command posts. It has inspired my daughter to create a super-deluxe version of her own game.
I played her original prototype before this debuted. It was a straight ahead roll-and-move game. Instead of dice, there were cards numbered one to five.  If you landed on your color, you got to go again. (But you couldn't keep doing that– just one "bonus" move is allowed.) As in Sorry, you had to get the exact number you needed to land on the "End" space.
She agonized over the crafting aspect of the bigger, better version. When she was done, she'd added a rule that if you didn't land on your color, you had to go back two spaces. The cards were replaced with a die. Also… there was a post-move challenge. You drew a card with the name of a creature or household object written on it. If you'd landed on a "1″ space" you had to make it out of silly putty. If you landed on a "2″ space, you had to draw it. If you'd landed on your color, you had the option to act it out if you wanted. Very intentionally, there was no time limit. You just had to do it before the next person went. There were no consequences for failure and no "extras" for success.
When we playtested this with three players, we found out that we could not complete it in under half an hour. The kids loved the acting out stuff, though… but the silly putty proved a not-so-good replacement for the clay in "Cadoo." My son actually did ask to play it again a couple of days later, but life took over and the game was forgotten. I did try the game again without the challenges and my daughter quickly discarded the "go back two" rule she'd added.
This game had been on my mind and percolating with Jay Meyer's game design advice. (His kickstarter looks like it's well on its way to funding, by the way. Congrats on the progress, Jay!) I went back to the roll-and-move idea, but added in this thing were you got a number of colored tokens based on what was on the square you landed on. After your usual move, you could take an action. If you had red tokens, you could "smash" any two tokens in another player's possession and take them out of play. If you had green tokens, you could "steal" one token from another player. If you had yellow tokens, you could "teleport" ahead as many spaces as the number of yellow tokens you had. To successfully perform your action, you had to roll the number of tokens you had in that color or less. You would then lose one of those colored tokens unless you rolled your number of blue tokens or less on the die.
My variant did not go over that well with my daughter. She did not appreciate the "screwage factor" when she had to bear the brunt of it. She got an early lead and kept it to the very end while my son stayed in last place for the entire game: not a very dramatic game, that! There was also maybe a problem when players got to 6+ tokens of a single color (with instant success) and the agony of not being "good" at anything. Ah well, back to the drawing board…!
Now that everything is punched out and assembled, it's time to play this thing without any more distractions. Here is a run down of the half dozen complete games and the couple odd partial games that we ran this past week:
I thought at first that this game was silly and overwrought with more components than could ever reasonably be expected to be used. Seeing this through the eyes of the 10-12 year old set… I see that we need MOAR! More counters! More Ogres! More overlays! More stuff! Yes! But we haven't even scratched the surface of this game. There's the Advanced Ogre scenario that we haven't even touched… the Super CP… and the half dozen G.E.V. scenarios… and G.E.V. scenarios with Ogres… and then everything with cruise missiles. Since it appears that Ogre has temporarily fired every other game in the house, we stand a good chance of getting into them.
For a second there, I was really worried that the kids would never pick up on the finer points of the game. In reality, it didn't take long for my son to work up an Ogre-killing strategy. He quickly realized that super-heavy tanks were a bad investment… and chose to target treads only. After seeing his heavy tanks get mauled time in those circumstances, he cranked up the proportion of G.E.V.'s in the force until he got a winning combination. He's pretty happy with this accomplishment, but admits that he doesn't really have a strategy for the Ogre other than to use the missiles early– the other kids save them back for some reason and we can't figure out why…!
There's a lot of good times waiting to bust out of this box.
—
¹ I'm told that the all-G.E.V. defense is illegal due to its munchkin-like effectiveness. I thought that was something that got fixed in the later editions when the G.E.V.'s were bumped down to a three for their second move. It doesn't seem like Ogre tournaments would really work if there were a "perfect" defense in existence. Do people routinely outlaw this sort of thing or otherwise require a mix of units…?