Microgames, Monster Games, and Role Playing Games
Post-Apocalyptic (Aggregate Cognizance) My Metric For Presenting In Character Or Out of Character Knowledge – "The players should be able to roleplay their characters figuring out how it works. The words, 'What is this weird metal cylinder with glass set in the end?' should be coming from the players and not the GM trying to play some kind of lame game of Charades."
Wandering Monsters (Deep Delving) Spicing up randomness – "What I basically aim for is to convey both hints on the nature of the creature and it's general power level if possible – it's great if clever players can use this foreshadowing to plan their delve and make preparations."
Motive (Open Culture) Raymond Chandler's Ten Commandments for Writing a Detective Novel – "Hammett gave murder back to the kind of people that commit it for reasons, not just to provide a corpse; and with the means at hand, not with hand-wrought duelling pistols, curare, and tropical fish….He was spare, frugal, hardboiled, but he did over and over again what only the best writers can ever do at all. He wrote scenes that seemed never to have been written before."
Gaming History (Baen) Dungeons and Dragons: The 40 Year Quest for a Game that Breaks All the Rules – "Gary Gygax's genius wasn't in logical game design, writing, editing, or even business. Rather, it was in fusing the trappings of popular fantasy literature, board games, and miniatures games into a storytelling procedure just coherent enough to inspire players to make it better."
Adventure Design (Hack & Slash) On the OSR versus TSR eras. – "One of the best things about this table is how it avoids the obvious. Even ordinary things here are extraordinary in some way, or at the very least a great lead-in to an encounter or an adventure. It feeds naturally into your worlds, and references all kinds of material, but could easily be used in any weird sewer."
Heavy Metal (The Silmarillion) "Then all the hosts of Angband swarmed against them, and they bridged the stream with their dead, and encircled the remnant of Hithlum as a gathering tide about a rock. There as the sun westered on the sixth day, and the shadow of Ered Wethrin grew dark, Huor fell pierced with a venomed arrow in his eye, and all the valiant Men of Hador were slain about him in a heap; and the Orcs hewed their heads and piled them as a mound of gold in the sunset."
Space Gaming (RPG.Net) A Review of Encounter Critical — "I drew a map and came up with as many ridiculous, awesome, and ridiculously awesome location names as I could think of. I wrote an average of 3 – 5 sentences for each place. For a place called 'Tribalistic Gibbering' I wrote, 'A petrified forest where orange-skinned natives live and hunt. They're cannibals, of course. Crashed starship with old power cells still functional. Humanoids strung up against petrified trees, first as sacrifices… then as dinner. Ha-koota is the tribe leader.'"
That's One Way to Put It (Illuminating Games) A Distant Plain – "Like Andean Abyss, A Distant Plain is a complete-information whack-the-leader and be-ahead-at-the-end game with simple and open scores."
Wandering Monsters (Ten Foot Pole) SG1 – Hill Giant Hall – "'2d6+6 orcs' is not an exciting path to adventure. It's boring. It sucks. How about '2d6+6 orcs planning to rescue their leader Graxar from area xx.' Now that's an encounter! Or Harpies, spying for Queen Isabelle the Cursed, attacking only if provoked … or the Wolf Keeper looking for escaped orcs … or … you get the idea."
Voice (The RPG Corner) March Madness Non-D&D Blog Challenge: Day Four – "I didn't get a chance to read classic 'high Gygaxian' prose, coming into the hobby when I did, until many years later. But Siembieda was very much in the same vein, not so much in technical terms but in the way that you felt like, when you read one of his games, he himself was sitting there explaining it to you in person."
Wargame Design (C3I Ops Center) My Philosophy Behind Card Driven Game Design by Mark Herman – "Back in the late 20th century, I had the good fortune to publish We The People, the first of the Card Driven Games (CDG) genre. Through my study of the American Revolution certain critical design elements crystallized for me. I felt these elements must be in a game on this subject if it was to be a faithful historical design. In particular there was the nature of guerrilla warfare, and its impact on conflict, that challenged the way I approached this game design. Guerrilla warfare illustrates how to leverage political context through a superior application of military deception to confer strategic initiative and victory. It was upon reflection, and years of real world experience, that I came to understand that these factors were dominant in all warfare, not just guerrilla conflict, and they were missing elements in most game designs."
Deception (Board Game Geek) Help – Your opinion on a game ethics situation – "Here is what happened. I was playing the Scots. During my turn I played a 2 move card. For my first move I acted like one of my units was the Norse and made a sea move to an open location…. I then hemmed and hawed for a couple of minutes on my other move. Finally I 'changed my mind' on the first move, took it back, and instead did two army marches."
Fire in the Lake (Mark Herman) Bungle in the Jungle – "As the game moves into final development Volko, Paul, and I used our holiday to playtest the NVA solitaire 'bot' in the 1968 scenario. This was not as much a competitive session, but an open interaction to make sure that the NVA 'bot' did reasonable things when mixed in with three humans…. I have to say the 'bot' got solid tuning over the course of this session."
Gaming History (Point 2 Point) WBC 2013 AAR and SuperMegaPost! – "Mark Herman had been working for years on a Vietnam War game dealing with the political subtleties of the war (the joke was that it was to be entitled Against the People, the nominal sequel to We the People and For the People). But it seems that Volko Runke's COIN system really seemed to break the mental block. According to Andy Lewis, Mark designed something like 75 events within the first few days of joining up with Volko. A prototype was at the con, and it looked exciting. Can't wait for this one."
Monster Games (Hiew's Boardgame Blog) Paths of Glory – "I feel that in this game every decision will come back to haunt you. There are implications further down the line that you will concretely feel. Sometimes you regret, sometimes you feel justified. Sending reinforcements to one front will help you do well there, but it means another front is getting less support and will probably suffer. When I play, I feel that successes are because I have made wise decisions, and failures can only be blamed on myself."
Gaming Theory (Defense Linguistics Research) Zeroing Out the Space – "The pain is evident in the retelling, in the rush to the words and the evident effort to get out as much as possible before language implodes under the burden of its objects. This is certainly part of history, but it usually gets grounded out. One reason why I'm continuing this project in wargame form is that I think the medium brings this out better than written histories. Games create affective bonds even as they evoke something of the intellectual challenge faced by historical combatants."
I'd showed up to PrezCon intending to get a copy of A Distant Plain and then play it down in the open gaming area. I wasn't too surprised to see the designer there– someone had pointed him out to me the year before. What got me was that he was setting up his new game and no one was clamoring to play it. Oh, sure… there were several other game designers around that wanted to say hello or talk shop. But no one seemed to want to play Fire in the Lake!
That to me really captures the essence of PrezCon. The tournaments are really what the event is all about. Everything else is secondary. Oh sure, the auction is a pretty big deal. But there are no panel discussions and hardly any talks scheduled. There are no "guests of honor" giving speeches. There's certainly no one dressing up like geek icons. The games are the thing… and the tournaments are organized by the sort of people that will play their respective games 500 times or more. If you haven't witnessed it, it's really hard to imagine.
And that's how I could end up playing a game with Volko Ruhnke for a couple of hours while everyone else just walked on by. I was actually embarrassed to have him all to myself for so long. (I'm not that quick of a learner when it comes to new games, I'm not an expert on military history, and I was a good twenty years younger than most of the other people playing these things.) Volko was extremely patient walking me through everything, though. Still, I was relieved when a few more players finally arrived.
The playtest group peppered him with questions as we played. I was surprised when he mentioned that Andean Abyss was his favorite game out of the COIN series. He said it was more pure than the others somehow. At one point he said how he really did not like working on more than one game at a time– it just got so confusing going back and forth between them. He also noted that the prejudice we had against the North Vietnamese faction had parallels in how things have gone with Cuba Libre. People really do play harder against the historical victors… especially in these games. He said he thought that things would settle down once the games got played more and that the factions weren't quite as imbalanced as we were thinking.
We all went out for drinks and a meal that evening. At the point of the game that we were at, we were beginning to wonder just how any of us were going to be able to pull ahead and win the game. This may already be written down somewhere else, but Volko talked about how his son went to an Andean Abyss tournament with the goal of winning with each faction. He did indeed pull this off– the grognards only noticed his oddly familiar last name after it was too late!
Evidently, even though the strategy for the COIN series is opaque to me at the moment… it can be mastered. I like how Stephane Brochu has expressed it on Board Game Geek:
The chaos brought about from playing against 3 other players who have very different victory conditions and options than you make for a very dynamic series of game, but unfortunately one which is sometimes hard to grasp fully the first few games. You find yourself staring at the board too often, with no clear strategy or idea of what you should do. Couple this with the distinct feeling that any progress you might have made on your turn is usually destroyed in a few cards make this feels futile by time and that is, at least to me, the greatness of the game. You cannot simply plow forward and hope for a victory.
That pretty well nails my experience with the game. My only problem now is… waiting until June or so for its release! While it will be a while before I'd try the long scenario again, the shorter ones will easily see play. The game strikes me as being ideal with four players, but the development of the "robot players" means I don't have to worry about whether I'll be able to round up a full group or not. I'd probably even try a zero player game at some point just to see the robots fight among themselves…. A two player game with each of us having robot allies sounds fun… but we could just as soon play on the same "side" against them.
I wasn't sure I would like something that looks this much like a "Euro Game," but the paranoia and the tensions this game creates are powerful selling points. I'm hooked.
I was skeptical as I walked by the demo table for The Hunters at PrezCon. I mean really… as if people were going to play a solitaire game at a convention. Who on earth would pay to go to con in order to do that? Later on, I cottoned on to the fact that there was almost always two or three people there playing the game. When I tried to play a game on a nearby table, I was frequently interrupted by shouts from people whenever they'd sunk something or got hit by enemy destroyers. Finally I had to see what all the fuss was about and I sat down to try it.
I began the game by rolling 2d6 to see where I'd be patrolling. Next I checked to see if aircraft had spotted me as I was heading out to the Atlantic. Indeed I was, but I managed to dive before they could do me any harm. I pushed my marker counter along a track representing my progress on my mission, and then rolled 2d6 to check for an encounter. (There are different tables depending on where you are.) It was a convoy! I rolled percentile dice to find out which four ships I was in contact with. The tonnage was they key thing as far as the game was concerned, but the ship names on the chart are all historical. One of the ships that came up with my rolls was Empress of Britain– the largest freighter in the game!
Things were serious now.  I had to decide what range to fire at. I chose close range even though it made it easier for the destroys to track me down. The torpedoes I was using would leave a bubble trail that would also help my simulated opponents find me. I fired all four forward torps at the behemoth, checked for hits, checked which ones of those were duds, and then rolled for damage. I'd sunk it!
But the destroyers were on me now. They sighted me. I crash dived to try to avoid them, but I couldn't shake them. I was hit! But… it was just my deck guns and a couple of other extraneous pieces of equipment. I couldn't get away, though. Their bonuses were stacking and I seemed to be in a death spiral. I was taking hull hits now and my chances of escaping were sinking fast. I had to decide… do I dive deep a third time for a slight edge in my chances even though it would cost me more hull hits? I opted not to. I bet that the dice would suddenly go my way and… a three came up and I was screaming so loud I was disturbing the Euro gamers at the next table.
I'd just sunk the biggest ship in the game! Yeeeeeeee-haw! (Or whatever it is that Nazi's would say in similar circumstances. Is there a 2d6 table of colloquial German expressions…?)
At this point I really wanted to get back home in one piece. I was damaged, but I still had a bunch of torpedoes on board. That wouldn't do! I found some more freighters and fired at them at medium and long range… but I didn't sink anything. (Darn duds!) I also didn't get sighted by enemy ships, so at least that much went for me. I headed back to port, avoiding being sighted by airplanes as well. My ship would be in dry dock for an extra month because of the damage I'd taken to my hull.
This game allows you play out the complete career of a Nazi U-boat captain. As the months go by, your capabilities may improve due technological advances. On the other hand, your challenge is slowing increasing as well, because the "bad guys" are getting better, too. Gripping hand is that in the late war period, you'll hook up with a "wolf pack"… so the world of hurt stands a good chance of falling down on your anonymous cohorts.
This game is a treasure. It's very similar to the "Life Path" style of character generation that was pioneered in the Traveller role playing game. But it goes beyond that by letting you do more than choose your career and whether or not you re-enlist. Here you actually get the make the key decisions of your career. And just like in Traveller, your character takes on a life of their own even though they emerge from a sequence of die rolls.
Your sub's "ship display" format will be familiar to Star Fleet Battles and Car Wars fans. The random damage results can really come back to haunt you when you continue with your mission. And as in role playing games, you have a chance to repair them… and your crew stands a chance of improving with experience. (One guy at the table ended up getting the equivalent of SFB's "legendary officers." He got a Leonard McCoy calibre doctor… lost him in battle… and then got another one!)
Unlike a lot of space games, this one does not overload itself on complex rules or extraneous detail. This is a very clean design. You get a cornucopia of interesting results without a lot of overhead. If you know anyone that has spent hours rolling up dozens of Traveller characters, then you should do them a favor and point them toward The Hunters. This game will be like crack cocaine for them.
I drew the table with the guy that had won many, many tournaments. When I walked over, it soon came out that I had never played before. But my color was yellow… arguably the worst set of factions for the beginning player. (You start with the Romans… who are not only extremely influential in the opening turns, but who also break every single rule in the game!) The guys were a little flummoxed, but soon got down to business showing me the ropes. This was the exact same treatment I'd gotten last year when I blundered into the tournament for The Kaiser's Pirates… but given the length and complexity of Britannia, I was still surprised at just how far they went to make me feel welcome.
The first moves were pretty chaotic to me. I blitzed around the board taking over territories and building castles. Red and Green very quickly offered to submit to me and I ended up accepting. Green's player explained that it was a very common agreement, so I went along with it. The die rolls didn't go so well for some of my battles, but I insisted on playing aggressively in spite of the other players' attempts to convince me that this was not in my interests. I lost several Roman units to Blue and he collected them greedily so that he could score points for them.
For several turns, Red and Green would ask me how many babies they could have. This rule made no sense to me at the time. I'd ask… "well, what can you do for me?" They'd always say, "nothing." So I'd make them have whatever made them weakest. This was supposedly not the "correct" decision on my part in terms of my raw self interests… but I've honestly had it with playing games where I do things for opposing factions which in turn have zero interest in ever doing anything for me. You tell me up front that you won't help me later on, then you can forget even trivial favors. I couldn't be sure, but I think I may have thrown the game out of their usual opening patterns, which suited me fine considering how experienced these opponents were. On the other hand, I screwed up the game by making it so that we'd all score less than average– which would have consequences when scores were used to determine who went on to the finals.
Before long, the tides of history changed and I was running to the hills with my Romans. Castles were burnt left and right. Soon the killer armies were replaced with the Romano-British, who weren't good for much. King Arthur and some Cavalry showed up… but the entire table persuaded me not to use them. If I came out from the rough terrain that was sheltering me, then I would be vulnerable… and it would be worth someone's time to come pick me off for the extra points that they would get out of it.
The Scots came onto the board and noodled around. They couldn't do too much and seemed to have trouble on all sides. I got another leader for them at some point, but I don't think I could really use him for much because of the "King Arthur effect." If I put him outside of the rough areas, he'd be too vulnerable to counterattacks.
The middle part of the game was a bit of a drag. I couldn't seem to really do anything for a long time. However, I did have time to figure out the scoring notes that were in front of me. My next couple of factions would get lots of points for going into certain territories. I studied the board so I could prepare my attacks. York was my prime destination… for both of them!
Now… before I go into that, I have to explain that in the early stages I really seemed to pick on Blue slightly worse than the other players. One of my stupidly aggressive moves might have set him back somehow. Now… I don't know if it was all that important, but I did make a point to throw him a bone latter on to try to make up for it. That maybe didn't matter, but Blue took a shine to me for some reason. At one point he declared how much he liked how I was handling myself– listening to everyone and then sort of boldly pushing forward with my own decision without taking up too much time. He may even have just liked that I was clearly enjoying one of his favorite games. Or maybe he just wanted to see a top player go down in flames just on principle… who knows! But at some point, Blue started looking out for me on the board.
Green and Red… I could not really understand what they were doing. The factors influencing their play came down to racking up points based on how the territories were marked on their scoring guides. But they also had to measure how far to push things. If they overextended themselves, they would get eaten up. They had dozens of games that they could recall for how things would turn out if they did certain things. And they had to play every turn thinking about five moves down the road….
My last two factions were not like that at all. There wasn't a whole lot of finesse to them. They both just boiled down to heading to York and taking as many of my other of their high scoring territories in the process. At this point of the game I could declare my moves mostly on my own. Almost every turn, Red and Green would explain something to help me tighten up my position or avoid waste. Sometimes this was clearly to do with something in their interest, but many times I had the advantage of getting the real assistance of sort of a Britannia mass mind.
My Dubliners came on the board and had a string of good die rolls in their favor. I had every one of their counters on the board and was getting every point I could out of them, nearly. Red looked at them and said it was the best Dubliner position that he'd ever seen.
My Norwegians came on the board and it was very similar. They took York and all of their high scoring territories. Other players could have come after me, but I doubt they would have gotten a lot of points for doing so. They were more concerned about holding on to what they had. A king did a large attack nearby my Norwegians and then ended up taking a surprising amount of losses to his armies. My Norwegian king was in position to take him out… and did so successfully. This was a very lucky turn of events for me.
In the final stages of the game, Blue went on a killing spree, taking on Red in many, many battles. He rolled well in several and would scream and yell every time he got a "6." Red, in turn, became more interested in recapitulating history than in maximizing his score. Green… I never quite understood how he'd had to play for the entire game, but he continued on doing the "patient" thing right up to the end, even if he couldn't ever quite get rid of the Irish.
Anyway, the final score was tallied and… I'd won! Everyone was pretty impressed that I "beat" one of the top Britannia players in his own game, but now you know how that could have happened!! I actually could have played in the finals if I didn't have to leave so early on Saturday…! (I don't expect to make as good a showing in my next game. I wonder what color I'll draw?)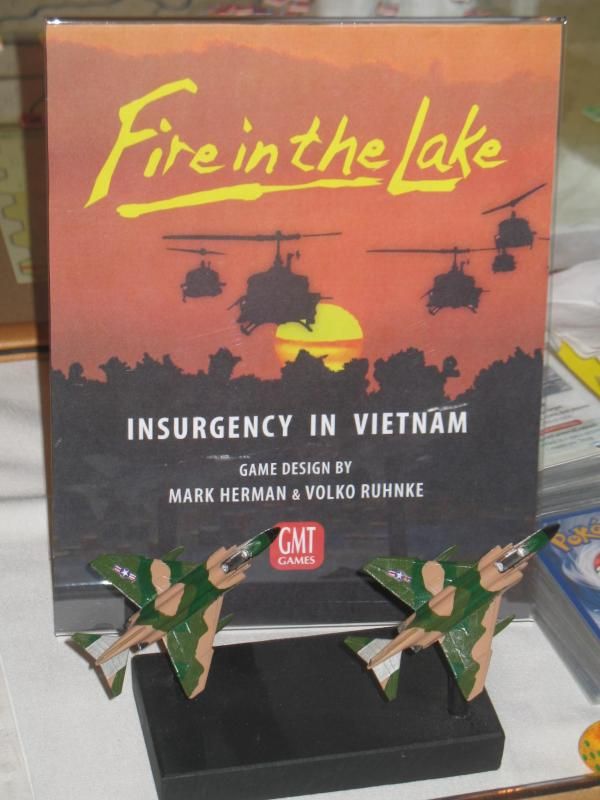 I spent Thursday at PrezCon playing a playtest copy of Fire in the Lake with Volko Runke. I hadn't played any of GMT's Counter Insurgency series before, so this was all new to me. I will begin with a breakdown describing how the game works and then move on to the actual session report.
This is a "card driven game." This means that there is a stack of event cards that determine the flow of historical events and opportunities in the game. Players may choose to exercise the card's special actions instead of exercising their usual abilities.
The turn order is specified on the current event card. Players can see the next one coming in order to plan around it. Players may pass in order to be sure to take advantage of the next card. Players may exercise the current card's special ability in order to prevent another player from using it. Usually, when you act on one turn, you will be out of play on the next turn. Normally, two of the players will play each turn… but it's possible for things to fall out such that a player misses a turn due to how his opponents manage things.
There are four players broken up into two teams… however these alliances are extremely uneasy. You have to work together, but each player has different ways of accruing points, different strengths and weaknesses, and different abilities. You can't count on your ally to do everything you want… and he is liable to leave you in a rough position if it suits him!
The US player has unlimited funds… and can spend the ARVN's money to train and deploy forces. The US needs to have COIN control in order to do certain actions, but doesn't actually score points from having COIN control. The ARVN benefits from having territories support rather than oppose the government and the Americans. Yet ARVN does not get points from this support while the Americans do.
The NVA begin the game weak, but can grow rapidly if they can establish bases and improve the Ho Chi Minh Trail. Several times it was pointed out that they need to wait for the right time to act… and then make it count. (They don't have enough resources to act with impunity.) Meanwhile the Viet Cong can infiltrate and subvert and cause no end of trouble even though they appear to be weak militarily. The Viet Cong get points for having bases and for turning the people into opposition against the government.
I began the game playing the US and ARVN forces together. Volko suggested that we play the long game, which has many more event cards to play through. In the two player game, your score is always that of your weaker color. (This is to keep you from running one group into the ground in order to help the other one blitz past the victory conditions.) One neat feature of the game is a set of robot players… which allows people to play solitaire, allow to players to play with robot allies, or even have the robot player "sit in" for someone if they have to step away.
As a novice US player, I mostly just wanted to kill enemy units. They seemed so threatening to me. I would sweep an area in order to identify the guerrillas… then I would send in an airstrike to take them out. This pattern would keep the Ho Chi Minh Trail pruned back, but the collateral damage would create strong opposition that would cut into my victory points. Play continued through several event cards until a "Coup" card came up. This made the preceding card take place in Monsoon season (which lead to additional restrictions) and also triggered a housekeeping phase. (If anyone had met their victory point threshold when the Coup card came out, they immediately won the game.)
Someone arrived to take over the ARVN player and then suddenly everything changed. My yellow cube allies suddenly seemed to behave dangerously. They didn't seem to want to do things that they obviously ought to do… and they seemed far more concerned with keeping me from scoring points than with killing bad guys. I would do all kinds of things to help them, but they would never seem to reciprocate. It just about drove me crazy… and I soon began arguing with the player that was running the ARVNS. I played a move just to get back at him and I overheard Volko say to the NVA player, "see…? they're falling apart!"
But the NVA player had problems of his own and really needed the encouragement…. He thought everyone was picking on him because the Viet Cong had won in real life. He thought we were all biased and that we didn't understand how difficult he had it. The Viet Cong player, on the other hand, was inscrutable to me. He seemed to be suffering from analysis paralysis. I would kill him, but he'd always seem to come back stronger somehow. He was actually a pretty credible threat for a while, though.
Things kept swinging back. Whoever threatened to win, ARVN would do exactly what needed to be done to dial them down to where they couldn't anymore. He'd played A Distant Plain before, I think, and knew just what to do. (It was like in Illuminati or Uno where no one could go out without being much stronger than they appeared.) I was so far behind, I decided to pull out scads of troops in order to threaten a victory. I had far fewer men on the board, but I was just on the edge of winning the game.
Then my "ally" played the Ia Drang special action that had turned up. I was invading Laos! The NVA had just pulled out of Vietnam in into there to lick his wounds… but here I came. I airlifted a few ARVN's to come with me just to spite them. I brought in several of my armies from territories around the board and then used roads to bring in some more. I wiped out the NVA forces and the ARVN's eliminated the last NVA base there… and the fact that *they* did that had additional side effects.
I was miffed that I had been drug into such a precarious position. I then played the Linebacker II card out of sequence. (This was a special event card that I could on any round as long as certain conditions were met and the other players didn't trump me.) This devastated the NVA and eliminated all of their money. The NVA player was furious. For the whole first part of the game, I'd been razzed for essentially playing kingmaker– I'd been handing the game to ARVN by letting him run up his victory point totals. (I'd been content to let him do this because I felt that it was up to the ARVN and the NVA to keep him down. At least… that's what I'd been saying.) But now the NVA player was furious with me…. He wasn't to the point where he'd flip the table over, but he did step away for a while to cool off.
Now… the thing about being in Laos… if another coup card came out… I'd end up losing the massive number of troops that I had there. Even worse… they'd be out of play, so I couldn't bring them back unless something weird on the cards could make it happen. Guess what the next card in the deck was…? The coup!!! Doh! I think I was one point away from winning after the ARVN got done fixing things. I chose to bring in a few more troops in places that had heavy opposition. (My plan was to spend some time turning that around into support in order to get back to where I was threatening to win again.) I don't know how that would have gone because we broke for supper right about then… and I had to head out.
I didn't finish the war, but I got a sense of how it all worked. Of course, I got to do the most fun thing in the game and nearly won in the process…! The event cards and the Pandemic-like rules give the game its skeletal structure… but the heart of the game is in how you have to manage an ally that you can't quite count on. The fact that each faction has different abilities and different means of obtaining victory means that it is not at all obvious what the correct thing to do is in any given situation.
This is a really compelling game.
—
Update: Note that when I describe ARVN player as driving me crazy, the VC player as being inscrutable, and the NVA player as being on the verge of getting table-flipping mad… I'm using some poetic license to try to get across the kind of physiological immersion that this game appears to be engineered to produce. Everyone there was a top notch gamer and a good sport– and I hope I haven't inadvertently painted anyone in a bad light. But this game puts you in the mental frame of your particular faction in a powerful way. Tensions can run high in this game and the subject matter only seems to make it more volatile! It's just a game, of course… but people playing this game are going to behave very differently when compared to the guys at the next table that are playing stuff like Puerto Rico and Small World. I have not observed this in many board game sessions. This sort of thing is more like what you can expect to see in a role playing game.